Home>Plays>The Seagull , Set Design Notes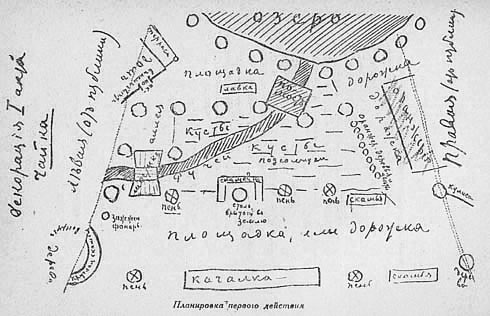 The Seagull was the second production in the debut season of the Moscow Art Theater (1898). The director Stanislavsky was known for the meticulous care with which he prepared his productions.
RIGHT: This is his sketch for the set design of Act I of The Seagull (click on the image for a larger version). Sets and costumes for this production (and for an enormous number of other MAT productions over the next 34 years) were created by the designer Viktor Andreevich Simov. Simov is recognized as a design pioneer who moved Russian theater away from the standard nineteenth-century box set. His productions were built around historical research, authenticity, rigorous planning and execution of the mise-en-scene, careful attention to detail and designs that responded to the thematic structures of a given play.
LEFT: This set of directions was written by Stanislavsky to accompany the Act I conversation between Treplev and Sorin:

1) Leans over, picks a flower and tells his fortune with the petals.

2) Sits facing the audience and nervously pulls at the grass. Smokes. Treplev gets more and more worked up, his speech becomes broken and faster.


3) In annoyance he slaps his leg, gets up and leans toward Sorin trying to convince him. Even pounds his chest in excitement.

4) Having waved his hand he climbs over the board of the swing and nervously walks around the terrace. A pause of about 5 seconds. Having walked around, Treplev calms down, comes back to his earlier spot, looks at his watch, and sits down straddling the bench.
BELOW: Stanislavsky's drawing of the set design for Act III of "The Seagull" (click on the image for a larger version).