Vsevolod Meyerhold was born in Penza in 1874. Although he came to Moscow to study law, in 1896 he left law school and enrolled in the sacting classes taught by Vladimir Nemirovich-Danchenko at the Moscow Philharmonia. In 1898, he was invited to join the trope of the newly founded Moscow Art Theater. In the first MAT season, he played Treplev in The Seagull. After a falling out with Stanislavsky, Meyerhold left the Moscow Art Theater. and founded his own troupe in the Russian provinces.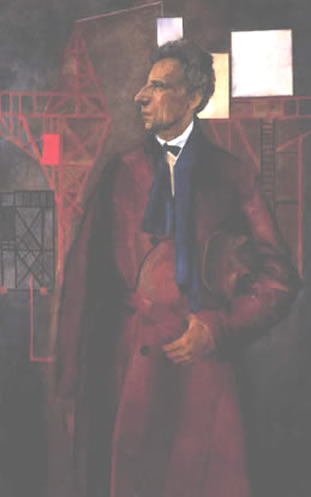 ABOVE: The portrait here is by Petr Vil'iams, and dates from 1925
In 1906, the actress Vera Kommissarzhevskaia founded a theater in St. Petersburg and invited Meyerhold to direct. There he staged Alexander Blok's The Puppet Show among other major productions. In 1908, Meyerhold was invited to direct at the Imperial Theater in St. Petersburg. He remained there for the next decade, staging both plays and operas.
When the revolution occurred in 1917, Meyerhold quickly joined the Communist Party, and in 1920, he was appointed head of the theater division of the People's Commissariat for Education. In the early communist years, Meyerhold staged many notable productions including the first production of Mayakovsky's Mystery-Bouffe (1918). Beginning in 1922, Meyerhold staged a number of famous constuctivist productions, including Fernand Crommelynk's The Magnificent Cuckold and Alexander Sukhovo-Kobylin's The Death of Tarelkin. Beginning in 1923, Meyerhold had his own troupe in Moscow, and staged innovative productions of both classics and new works. Perhaps the best known of these productions were Nikolai Erdman's The Mandate (1925), Nikolai Gogol's Dead Souls (1926), and Vladimir Mayakovsky's The Bedbug (1929). By the mid-1930s, Meyerhold's relentless experimentation was no longer in favor. His theater was harshly criticized and then closed in 1938. Meyerhold himself was arrested in 1939 and shot in prison in 1940.
For video clips of actors rehearsing Meyerhold's biomechanical exercises, click here. You will need the QuickTime Movie player.

Back to Directors