Home>Visual Arts>Introduction to Constructivism and Rodchenko's Collage
Constructivism: 1 2 3 4 5 6 7 8 9
In the late teens and early twenties, Soviet artists and designers attempted to put their talents to use for the new communist state. Most abandoned easel painting, even in its most radical forms, as overly bourgeois, and turned instead to design. The general slogan of these "constructivists" was "Art into Life" and their goal was, as Tatlin put it, "to unite purely artistic forms with utilitarian intentions." In their most extreme formulations, the constructivists announced "Art is finished! It has no place in the human labor apparatus. Labor, technology, organization...that is the ideology of our time." (For full texts of constructivist manifestoes, see Bowlt, pp. 205-261) Despite the ostensibly utilitarian nature of the Constructivists' concerns, the vast majority of their projects were utopian in nature and never reached a mass audience.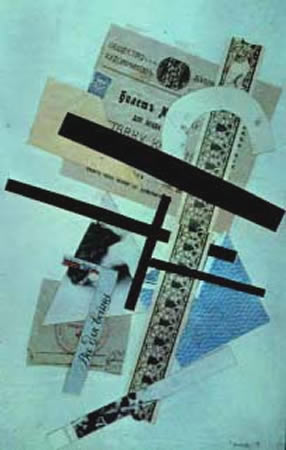 Constructivist Collage (1919)
Alexander Rodchenko (1891-1956) was a student of both Malevich and Tatlin in the period just before the Revolution. This "Collage" of 1919 combines the dynamic vertiginous axis and strict geometrical shapes typical of Malevich's later suprematist works with the use of different materials pioneered in Russia by Tatlin. During the 1920s, Rodchenko became one of the leading constructivists, and turned away from painting to photography, furniture and poster design. In 1929, he designed costumes and sets for Meyerhold's production of the second half of Mayakovsky's play The Bedbug.